How to remove Weather Widget from Taskbar
This is a step by step guide to remove the Weather widget from your taskbar for Windows 10.

-First, you will right click on any open space on your taskbar

-Second, you will highlight 'News and interests' then click on 'Turn off'

You can follow the pictures below for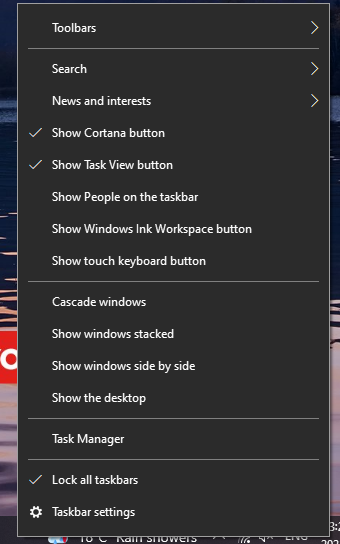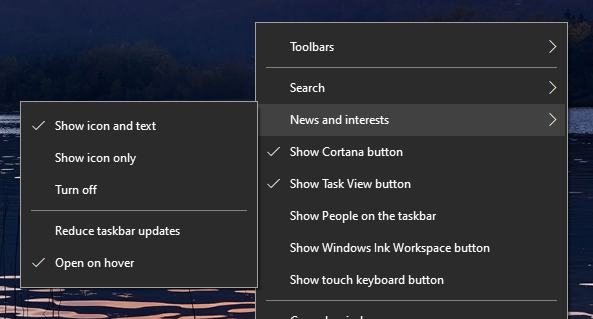 Related Articles

My computer is too slow

One of the most common reasons for a slow computer are programs running in the background. To see what programs are running in the background and how much memory and CPU they are using, open Task Manager. Below is a list, it doesn't cover everything, ...

How to remove extra Microsoft Accounts

Problem Office applications keep logging into the wrong account Office applications keep asking you to fix There may be more Steps sign out of office apps by clicking the profile in the top right then clicking sign out remove work or school accounts ...

Account Management - Windows

How To Add An Account; If you want/need to add an additional account, please follow these steps, 1. Start 2. Accounts 3. Family & Other Users 4. Add someone else to this PC (Enter a pre-existing e-mail or create a new one and enter that) 5. If it ...

How to Force an Update of Windows Computer Policies

Requirements Windows 10 Windows Server as Domain Controller Steps Run Command Prompt Run the command "gpupdate /force" Wait until completed Reboot the Computer (just to be safe)

How to clean up my device

If you've noticed that your device is running a little slow or that your folders are filling up despite you not doing anything, you can follow the steps below to help cleanup some of that used space! 1 - In the search box on the taskbar, type "disk ...